How to Work with USB Device in Virtual Machine
Anyone out there who never heard of virtualization and virtual machines and servers? Perhaps not. Most of us at some point of time made use of benefits offered by virtualization technologies. Running multiple operating systems in parallel on the same hardware has a lot of advantages – apart from cost savings, it helps you automate processes and be more flexible in managing limited IT-resources. However, virtualization also has certain issues that you will have to go about somehow – one of them is having no access to USB. VMWare, Microsoft Hyper-V, for example, do not provide for USB passthrough.

So what do you do? Sooner or later you'll surely need to access USB in a virtual machine. Is there a way to go about it – VMware USB over IP, virtual USB port over Ethernet? Do not worry, there is. Dedicated software such as FlexiHub will make VMware USB passthrough possible and enable you to access and manage physical ports of host OS without compromise.
Here is what FlexiHub has to offer:
★ FlexiHub is compatible with a large number of virtualization apps – VMWare, ESX, Citrix XenDesktop, Microsoft Hyper-V, Windows Virtual PC, QEMU, etc. Once you create a FlexiHub account, you can access your USB devices in virtual environments created by any of these apps.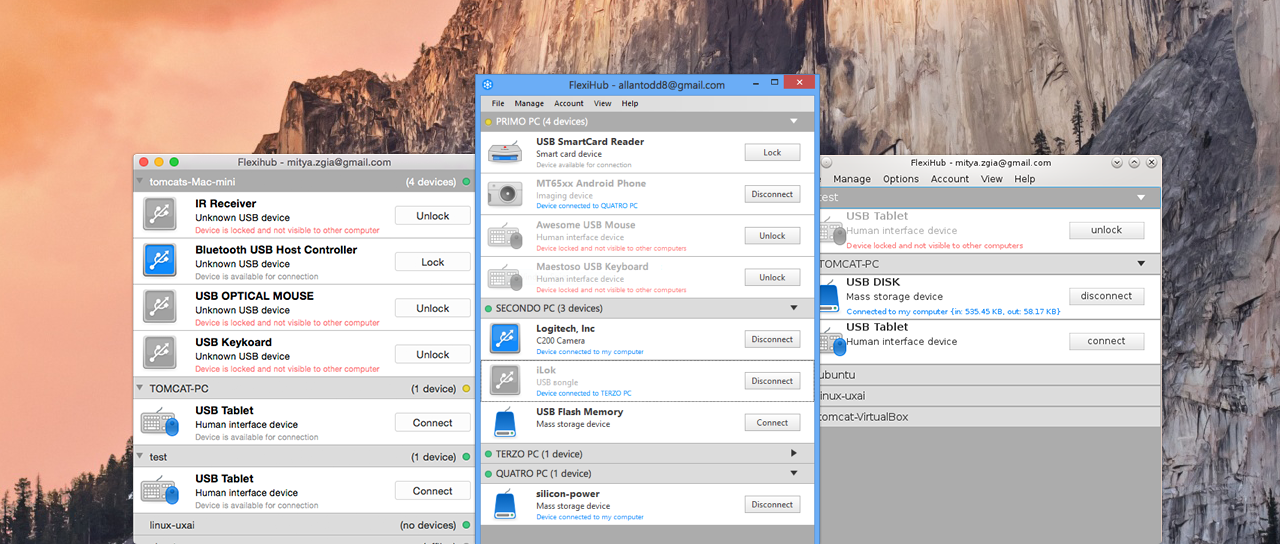 ★ FlexiHub works across platforms, i.e. it supports Mac, Linux and Windows.
★ FlexiHub detects and recognizes devices connected to your host OS as if they were connected directly to your virtual machine. No additional settings required.
★ Your virtual machine can access USB ports not only your host OS but remote computers that have FlexiHub installed, as long as you are logged in there.
How to use FlexiHub in a virtual environment.
If you work in virtual environment rather often, FlexiHub is one of those solutions that will make your life much easier. It is so compact it hardly has any impact on the performance of your machine. The interface is minimalistic - all USB devices are displayed in your account accessible to you on registration. And it is really easy-to-use, here is your step-by-step guide on how to do it:
Choose the subscription plan here.
Download and install the app on your host OS. Login using your credentials and you'll see a list of all connected devices – each of them with 'Unlock' button next to it. To make them available in a virtual environment, press this button.
Now you need to download and install FlexiHub on your guest OS. Launch the app and log in using the same credentials. In the app window displayed you will see a list of devices shared from the host OS.
Choose a device you need to access and click 'Connect'.
Now your virtual OS will recognize USB devices as if there were connected directly to it. No additional settings or commands required, manage your USB ports in virtual machine freely.