Serial to Ethernet converters – 2 different approaches
Contents
Serial to network converter - software and hardware methods
There's no shortage of serial devices to satisfy a wide variety of people's needs. Serial printers, scanners, lab instruments, scales, and many other useful serial peripherals are used by millions of customers every day. There's also no shortage of hardware and software solutions that convert serial signals to TCP/IP network so that the devices can communicate with computers remotely. In this article, we'll tell you about the most efficient ways to share a serial peripheral over Ethernet and access it remotely from your network machine.
Serial to Ethernet converter software
Probably the easiest way to connect any serial interface to the network is FlexiHub. The simplicity and speed of this nicely designed app are stand-out. All connections created with the software are protected with an advanced encryption, so FlexiHub is basically a super secure way of sharing serial devices over LAN, Ethernet, or the Internet. Plus, the solution is well-suited for those who want to access a number of remote serial peripherals simultaneously.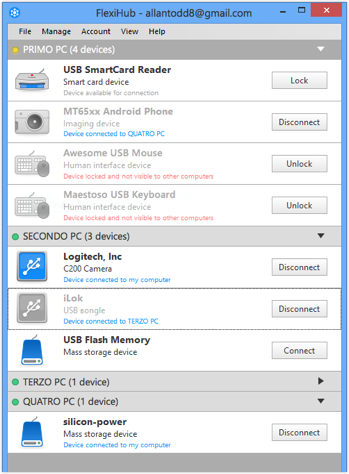 It works like this:
First, you choose a subscription plan that will best fit your needs. Then, register your FlexiHub account.
After that, you install the software on the computer (server) with a serial device physically connected and the remote computer (client) that will access that device remotely.
Start the software on both machines and log into your account using the same credentials.
In the app's interface on the client computer you will find the list of devices available for connection. All you need to do is select the peripheral that you'd like to connect to and click the "Connect" button, and this is it! Now, you can manage the device as if it were attached to your computer physically.
Serial to Ethernet Connector, which works under Windows and Linux, would be a great software alternative to FlexiHub. The software will allow you to implement various scenarios, like sharing one or multiple serial devices to one or many clients and vice versa, connect two serial applications via a virtual null-modem cable over the network, or redirect serial devices to virtual environment.
Serial to IP converter: hardware tool
A hardware serial to Ethernet IP converter basically allows users to redirect serial devices over the network by transforming serial input into TCP/IP data and vice versa. A standard serial to Ethernet converter may have from 1 to 20 serial ports embedded in it, so up to 20 serial peripherals can be shared at a time. With that, the hardware tool is rather easy to install and use, which makes it a convenient way to forward your fancy RS-232 port to a remote network machine.
Here's how you can use it:
When you buy a serial port to Ethernet converter, together with the hardware tool you get a driver known as a virtual COM software. The first step will be to install the software on a client computer.
Once the software is installed, connect the hardware to the client PC with a standard Ethernet cable. Next, connect the converter to the power supply.
After that, put the IP of the hardware into your browser's address bar and hit 'Enter'. Configure the converter to access it from your computer.
Now, any serial device plugged into your converter's serial port will appear in the Device Manager of your computer's OS.
The main downside of the hardware solution, however, is that the number of devices it can share at a time is limited to the number of serial ports the hardware fits. In case you need to remotely access a big number of COM port devices simultaneously, a good idea will be to try a software solution like FlexiHub which works with an unlimited number of serial peripherals.