VMware USB passthrough - a how-to guide
Although virtualization is an extremely beneficial technology, there are some issues that can impact users working in virtual environments. One problem users must resolve is when their guest machine running VMware is not detecting USB devices. You cannot work efficiently using VMware Workstation if USB devices are not showing up in your system's device manager.
Other issues related to peripheral devices include VMware USB redirection being implemented improperly, resulting in malfunctioning devices. You can also run into physical constraints based on the number of USB ports available to the virtual session. This article will discuss methods that can be used to eliminate these problems. We will show you how to connect USB devices to VMware virtual machines.
USB Devices in a Virtual Machine
A fast and easy way of cut-through USB data forwarding for your VMware virtual sessions.
VMware USB passthrough - a software method
It's an easy way to connect a USB device to a VMware virtual machine. FlexiHub software functions as a wireless connector between VMware sessions and USB devices attached to any network-connected computer. This includes the local host machine. The software is a great solution to the problem of how to connect USB devices on VMware virtual machines.
Follow these simple steps to implement VMware USB passthrough with FlexiHub
3
Install it on the computer where the required USB device is connected physically.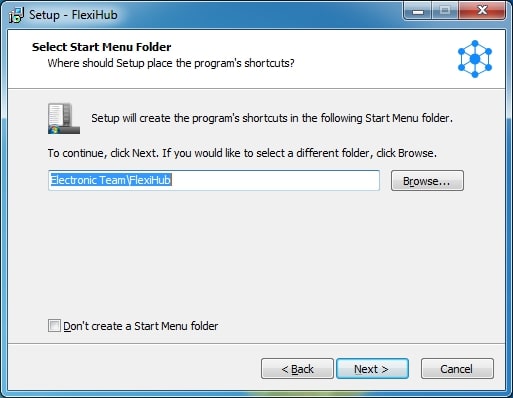 4
Download
and install the program on a VM, launch it, and you will be able to connect to the required USB device.
6
As a cross-platform solution, FlexiHub can be used in diverse computing environments. It supports communication between any configuration of Windows, Linux, and Mac computers.
FlexiHub is a dedicated communication utility that allows you to implement VMware USB passthrough capabilities in your virtual sessions.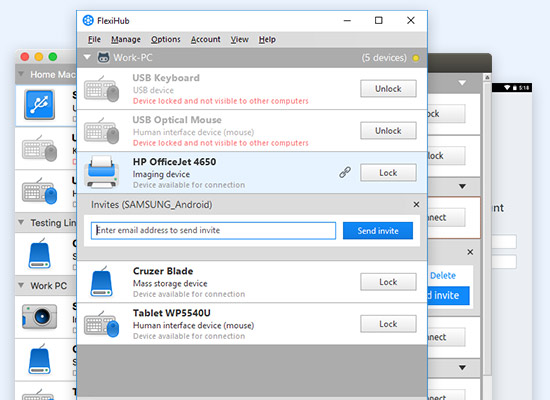 The primary benefit of FlexiHub is that it enables VMware USB 3 passthrough with remote USB devices using your local network, Ethernet or Internet connectivity. This enables you to configure USB passthrough VMware Workstation when you are not located anywhere near the equipment. All that is needed is to install the application on the host server and guest operating system.
Employing advanced port virtualization technology allows FlexiHub to enable VMware USB redirection on many devices that cannot achieve connectivity using native methods. Attempting to connect a keyboard with a bootable HID is not possible in VMware ESXi without third-party solutions. The same can be said for devices like video cameras that use isochronous data transfers. FlexiHub enables you to even redirect any type of iOS USB device to VMware virtual sessions.
How to connect USB to VMware
Here is how to connect USB devices to a VMware virtual machine running on VMware Workstation without additional software.
USB devices that are physically attached to a host computer are automatically connected to the guest system when the VM's window is active. You can disable the auto-connect feature in the USB Controller panel in the Virtual Machine Settings Editor.

When there are no available USB ports on the virtual machine at the time the device is connected, a dialog box will be displayed. You then have the choice of ignoring the new device or freeing a port by disconnecting a device. The device is connected to the host if you ignore it.

You use the VM -> Removable Devices panel to specify the USB devices that you want to connect to your virtual session. You can connect up to a maximum of two devices at a time. You cannot get around this limitation with a hub as the devices are counted, not the hub itself.

A menu on your virtual machine shows the devices currently connected to the host computer and available to the guest VMware session. Connect by simply hovering your mouse over the menu and clicking on the desired device. When a new device is attached, selecting it disconnects the first peripheral in the list and connects to the new one.
You can manually connect to a device from your virtual session with the VM > Removable Devices menu. You will need to use this connection method if you have disabled auto-connect.
To release a device, just select its port and choose "None" in its menu.
VMware USB passthrough software
Get a fast and easy way of cut-through USB data forwarding for your VMware virtual sessions!
Enabling VMware ESXi USB passthrough
Passthrough mode allows the data transmitted from a physical device attached to an ESXi host to be redirected to a guest virtual machine. Using VMware ESXi USB passthrough, a virtual machine can access USB devices as if they had a direct connection to the peripheral equipment.
Some preliminary steps must be taken to implement VMware USB redirection in ESXi.
A USB controller is required to be installed on the physical host computer as well as the guest virtual machine.
An arbitrator must also be used when establishing ESXi USB pass through functionality. The arbitrator is an ESXi host service that monitors connected USB devices and routes USB data transmission between virtual machines and the host OS. Another function of the arbitrator is to limit access so only one VM is using an attached USB device at a time. Up to 15 USB controllers can be monitored simultaneously by an arbitrator.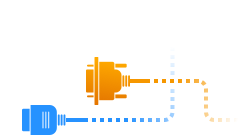 Related Articles
Device restrictions for VMware USB passthrough
There are limitations regarding the types of devices that can be accessed with VMware ESXi USB passthrough. The following types of USB devices cannot have data redirected to VMware because of restrictions enforced by ESXi.
USB devices that employ asynchronous data transfer like real-time audio and video camera equipment cannot use passthrough.


Passthrough is restricted for USB devices that have the ESXi host installed. More information on this restriction can be found from VMware support in the documentation about installing VMware ESXi (1010574) on USB devices.


USB hubs cannot take advantage of VMware USB passthrough.


Smart card readers and other USB CCID (chip/smart card interface) devices are restricted by default. You can find details on how to enable this functionality by consulting the "Unable to passthrough a USB smart card reader to a guest operating system" documentation in ESXi version 6.x and later (55789).


Mice and keyboards with a bootable HID interface cannot use VMware passthrough in ESXi.
Vmware esxi usb passthrough

VMware USB redirection app
30-day demo period
These steps will enable you to redirect USB devices to VMware ESXi.
Log into your VMware vSphere Web Client and go to your machine inventory.


Open the Virtual Machine list and select the one that you want to use the USB device. Right-click your selection and choose "Edit".


In the "New device" menu, select "Host USB device" and click "Add".


You will be presented with a drop-down menu from which you can choose the device you want to add to the VMware session.
VMware USB redirection FAQ
VMware USB passthrough enables physical USB devices connected to a VMware ESXi host to be accessed by virtual machines running on the host computer. The physical devices can only be connected to one virtual machine at a time. Security dongles and external storage devices are often connected to virtual machines using USB passthrough.
A USB redirector application is the most effective way of using USB devices with VMware instances. Electronic Team's USB Redirector is an efficient method for connecting to USB devices from virtual machines. All that is required is that the application is installed on the host computer and virtual machine. This allows the VM to obtain full control of the peripheral USB device as soon as it is physically connected to the host.
Simply select VM > Removable Devices from within USB Redirector when you want to connect your virtual machine to a USB device. Up to two devices can be connected simultaneously. If a USB hub is being used to connect the devices to the host, your VM will not recognize the hub and only see the attached devices.