How to share a USB or Serial printer
In this brief write-up we will show you how to share a USB or serial printer. For example, there are 2 machines that need to access the printer, one is a Windows PC in a home office upstairs, and the other one is a laptop running Windows 7 in a room downstairs.
Sharing printer over network
To share a USB or serial printer over network we can use an app called FlexiHub.
Step-by-step guide
Choose the subscription here and install FlexiHub, open it
Сlick 'Sign up' in the top right corner of the application. Page with registration form will open in your browser.
Register a free account. Choose the subscription plan.
Open FlexiHub, enter your registration e-mail and password
Install FlexiHub on your other machine – PC or laptop – log in using the same credentials
In FlexiHub find the printer you are going to connect and click Connect.
Your printer will be redirected to the machine, and you can use it as if it were connected physically to the computer. In free FlexiShare subscription you don't have an opportunity to connect to remote devices. If you need to access remote printer over network you will have to get FlexiAccess subscription.
Pros:
The app works via wireless network, as well as LAN
This is not a trial version, thus it will not be disabled in a few days.
Works on Windows, Mac OS and Linux
The app enables you to share any USB and Serial devices – scanners, web cameras, projectors, mobile phones, etc.
Cons:
Free version doesn't allow to access remote devices;
The software has to be installed on all of your machines.
How to share printer over Lan with software
Let's look into sharing a printer over LAN with the help of USB Network Gate.
Step 1
Download and install USB Network Gate .exe file. It is available here (version for Mac, version for Linux). Install on other computers too.
Step 2
Once you install it, the printer to be shared will be displayed in the Devices window. If you need to change the port, add encryption into the connection or encipher data transfer – press the gearwheel icon next to Share. Once the setup is complete, click Share. Now the printer can be seen on all machines with USB Network Gate.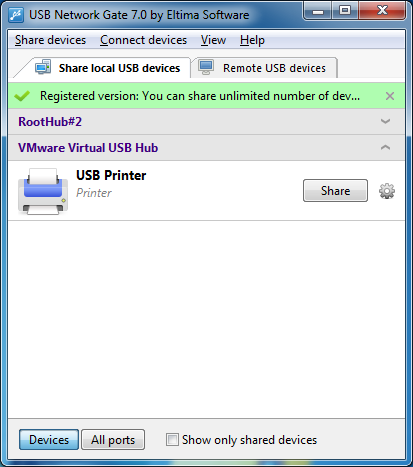 Pros
14-days trial version has a complete functionality
App is available for Mac and Linux also
Licensing works as standard software – you will only have to pay once
The app enables you to share any USB devices
You can get the source code or OEM license
Cons
Once the trial period is over you will need to buy a license for $89.95
The app has to be installed on every computer that needs access to the printer
Split USB Printer Between Two Computers manually on Windows 7
A USB printer can be shared manually, and here is how you do it.
We'll start with the computer the printer is connected to.
Make sure the installation is correct and all the drivers are up to date, click Start >> Devices and Printers. Right click on the printer to bring up a menu, select Printer Properties option there. Click Sharing tab and check if Share this Printer option is ticked – if not, do it. You might also want to give the printer an-easy-to-remember name. Click OK.
To find and use the printer you need to turn on the computer the printer is attached to.
On the computer you'd like to connect to the printer click Start >> Devices and Printers, select Add a Printer, then Add a Network, Wireless or Bluetooth Printer. The system will search your network for the shared printers. Once the printer you need is found, select it and click Next, follow the instructions.
In Devices and Printers window find the shared printer and send a test page for a printout to verify it's working fine.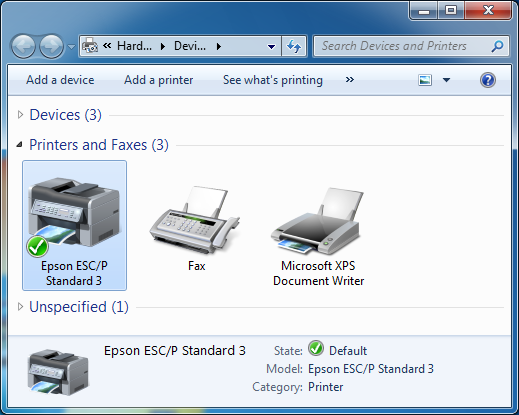 If you cannot find the printer, click The Printer That I Want Isn't Listed.
Check Select a Shared Printer by Name, type in the path directly or click Browse to find the printer and select it.
Once the shared printer is added to your system, set it as default printer by right-clicking its icon.
Each printer has different configuration, so you need to have the latest drivers, especially when sharing happens between Windows 7 64 & 32-bit systems.
Pros
Connection is done via Operating system, no additional applications are to be installed
Free
No need for activation – printer can be seen at any point of time
Cons
The setup process is not intuitive, some might find it rather complicated
Works only for printers
Each additional printer has to be set up separately
Make the printer wireless
With the help of a wireless router or a wireless print server, any wireless printer can be made wireless.
Here is how you do it:
Step 1
Once you decide what computer will be dedicated to the printer, connect it to wireless router via Ethernet cable. If your wireless network is already set up, check if the router detects it and connect your computer to the network. If the PC is also hosting the network, your router should be connected to your broadband Internet modem.
Step 2
Connect the printer to the host computer using a USB cable and check if all the drivers are updated. Turn on file and printer sharing on the host computer – go to the Network and Sharing section in the Control Panel or do a system search.
Step 3
Open Printers and Devices window from the Start menu and locate the printer. Right-click it and select Printer Properties, click Sharing tab and tick 'Share this printer'. The printer's system name will be automatically populated in the text area right below the check mark, you can change it so it is easier for you to recognize the device.
Step 4
If you want to connect computers with different Operating Systems, at the bottom of Sharing tab find Additional Drivers section and click Additional Drivers button. Thus you can specify other drivers to be installed on other computers.
Please note that the shared printer can be used only when its host computer is turned on.
Pros
Connection is done via Operating System, no need to install additional apps
It's free
Other PCs can use the printer without any additional setup
Cons
The setup process is quite lengthy and not exactly intuitive
Wi-Fi router is required
Does not work without Internet connection
The printer can be used by anyone who has access to Wi-Fi network