How to share 3D printer and print remotely over the network
Contents
1. What is a 3D printer?
2. The problem of remote 3D printing.
3. Efficient software for sharing 3D printers over network.
3.1 FlexiHub. Step-by-step guide.
3.2 USB Network Gate.
What is a 3D printer?
A 3D printer is an additive manufacturing machine used for creating three-dimensional solid objects from digital designs. Unlike a traditional printer that draws information on a sheet of paper, a 3D printer lets you turn digital models into three-dimensional physical objects. The technology allows creating complex (functional) shapes by adding material layer by layer.
A standard 3D printer is a programmable plastic filament system that can be started with one push of a button. With a 3D printer you'll be able to create many pretty incredible things like ceramic cups, plastic toys, metal machine parts, stoneware vases, etc. form a wide range of materials including thermoplastics, silicones, composites, filled materials, and more.
Up to now, 3D printing has been most commonly used in prototype production. But the modern tendency shows that 3D printers will increasingly create critical parts and finished products for the automotive, electronics, toy, food and many other industries.
The problem of remote 3D printing
There's no doubt that with their endless possibilities, 3D printers will change the way we manufacture things today. The technology of 3D printing has a potential to replace traditional factory production lines with a single machine. Moreover, a big number of modern additive machines are designed with a mainstream user in mind.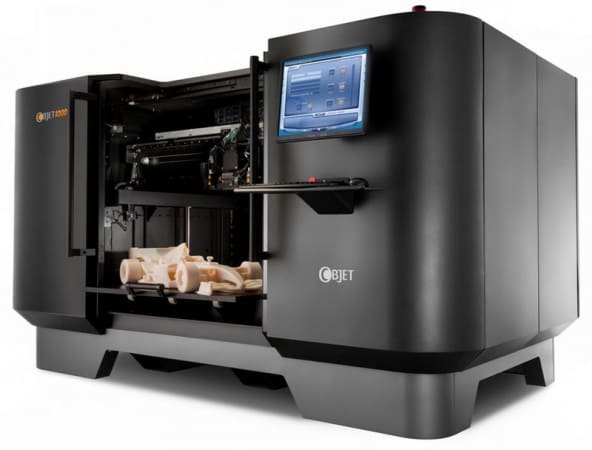 Considering all the hype attached to 3D printing, the problem of remote access and management of these devices is becoming crucial for both casual users and businesses.
Typically, high end printing machines come with a built-in remote access technology, which allows printing something big and especially beautiful remotely. However, such equipment not only takes up a large chunk of desk space but costs a small fortune.
But what if there's another way to share 3D printer through network? Well, the solution is simpler than one can imagine. A dedicated software like FlexiHub or USB Network Gate will help you expand the feature-set of more affordable machines and resolve the problem of remote access to 3D printers.
Efficient software to share 3D printers over the Internet
FlexiHub is an advanced port virtualization software that offers the ability to network share USB 3D printers as well as other USB and COM port devices. This solution clearly helps access and manage remote devices over the network. With FlexiHub you'll be able to connect to your 3D printer wherever you are. The software is not limited by the distance and works over any network including Ethernet, WiFi, and the Internet.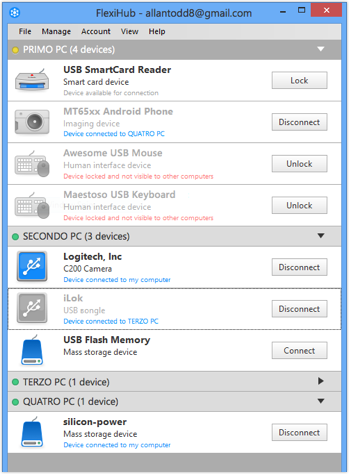 The advantages of FlexiHub:
Cross-platform support. You can share a 3D printer attached to a Windows machine and access it from a remote Mac or Linux and vise versa.
Secure connections. All communications established over the network with the help of FlexiHub are protected with advanced traffic encryption.
Intuitive interface. The software is easy to install and use. It will let you share devices and access them remotely with just a couple of clicks.
Step-by-step guide.
Here's how to share 3D printer over network with FlexiHub:
First, install FlexiHub on all machines that will communicate with the shared 3D printer.
If you've already created an account, then skip this step. If not, simply click on the Sign Up button and fill out the form to create your FlexiHub account.
Next, start the app on your local PC with the device attached. The 3D printer with appear on the list of devices available and ready to be shared.
On the remote computer, sign into your FlexiHub account, choose the printer from the list of devices available for connection and click "Connect".
That's it! Now the remote 3D printer will appear in your computer as if it were physically connected to this machine.
USB Network Gate
USB Network Gate is a great alternative for sharing USB devices across the network. If you have no Internet connection and need to share your 3D printer over LAN, this software will be good for you. The ability to share multiple devices with multiple network users at a time as well as the support for USB devices of virtually any type is what sets USB Network Gate apart from much of other USB sharing software.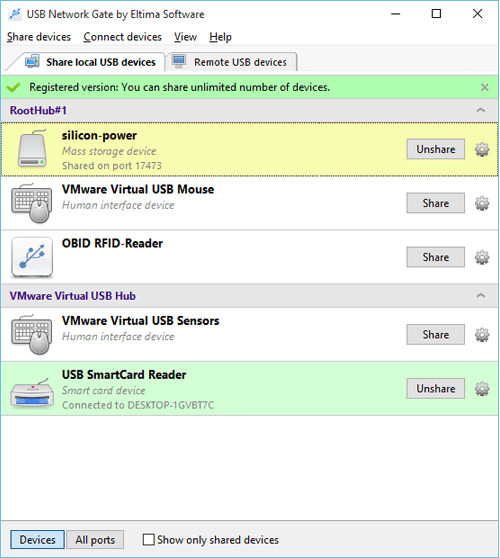 Why choose USB Network Gate?
Compatibility with virtualization software. USB Network Gate will easily redirect your 3D printer to VMware, VMware ESX, Citrix XenDesktop, or Microsoft Hyper-V guest OS.
Working in RDP sessions. The software allows you to not only work with any local 3D printer in a remote session but also set your remote computer to automatically detect and connect to shared USB devices.
USB device isolation in multi-user environment. With USB Network Gate you'll be able to assign your 3D printer to a specific user while working in a multi-user environment of terminal servers.
"How-to" guide
Here's how USB Network Gate works:
Download USB Network Gate and install it on both the device server (a computer with the 3D printer connected) and the client machine that will access the equipment remotely.
On the server computer, launch the software, find the printer in the list of available devices, and hit "Share".
On the client side, find the 3D printer in the "Remote USB devices" window and click "Connect" next to it.
This is it! Starting from this moment, you'll be able to access the full functionality of the remote USB printer without having it physically attached to your PC.