USB Print Server
Whether you need to share your local USB or serial printer over the network or access it remotely from any other network computer, there are various ways to do this. In this article we will consider two most popular methods of sharing a device over Ethernet.
What is a print-server?
A print server is a hardware device that makes it possible to access a non-networked printer from any computer connected to a local network. That means, any local network user can send print jobs to a printer from their computer as long as the printer is attached to a print server and shared across the network.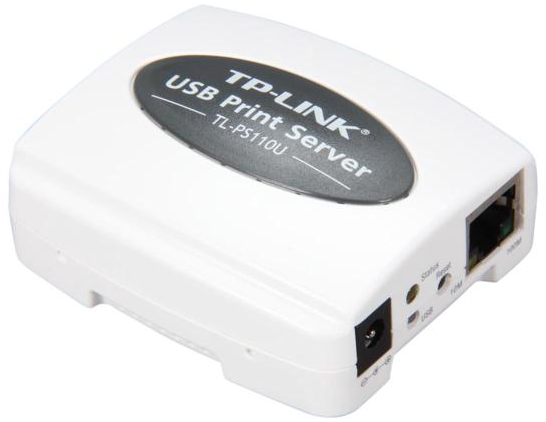 Available at an affordable price, today print servers remain a popular hardware solution for sharing printers among multiple users. The device is easy to set up and use, so you'll have no problem with it even if you have no experience in configuring network peripherals.
To transmit data, a network print server can use a range of TCP/IP protocols, including IPP, LPR/LPD, telnet or stream, and Microsoft print protocol.
Types of print servers
When it comes to the method of connecting to the network, modern print servers are generally divided into two types - wired and wireless ones. At the same time, connection to the printer can be done via a serial or USB port. So, we have serial print servers and USB network print solutions.
It is also worth noting that a wireless print server connects to the local network over Wi-Fi. That means, in this case a printer can be located anywhere in the room. Whereas a wired RS-232 print server is limited by the distance and is usually placed in close proximity to a router, which is not always convenient.
How does a network print service work?
A print server allows you to avoid using computers when installing the network printing service. You just insert your printer into a print server and connect the print server to your network router with an Ethernet cable. In some cases you may also need to install some additional software.
One of the best things about an Ethernet print server is that it's completely independent of any network PC, and, in fact, works as a small computer itself. This ability helps to not overload the user's work environment.
However, choosing a serial print server, you should remember that not every solution is compatible with printers designed by a third-party manufacturer. It's thus recommended that you first check your printer model with the print server's compatibility list.
One more thing you should keep in mind selecting a hardware print server is the maximum number of USB or serial devices it supports. A standard hardware print server is able to share from 1 to 4 serial devices at a time, so if you need to provide remote access to more devices simultaneously, it's better to consider the software method.
Alternative solution to share a printer over network
As it doesn't seem possible to share an unlimited number of USB or serial peripherals with a hardware print server, you may try the software method to achieve this. By software method we mean FlexiHub, a specialized application designed to share local peripherals over the network. One of the key advantages of the program is that it lets you share not only printers but USB or serial devices of any other type, including keyboards, hard drives, cameras, etc. What is more, with the software you get the ability to choose the number of devices that will be shared.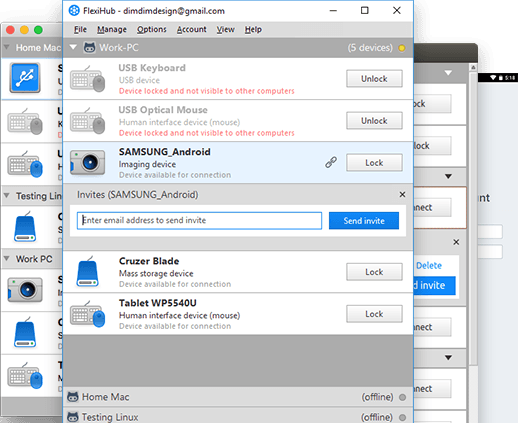 Pros and cons of the alternative method
Here are some benefits FlexiHub offers:
The software works over different networks, including LAN, Ethernet, WI-FI, and the Internet.
Cross-platform solution, FlexiHub, is compatible with Windows, Mac, and Linux OSes.
The program is able to share virtually any USB or serial device.
All connections created with FlexiHub are absolutely secure, thanks to the data encryption option.
Cons:
The free version of the app lets you only share local devices with no ability to access remote ones.
FlexiHub has to be installed on all computers involved in the communication.
Another good software option that can function as a USB print server is USB Network Gate. An ability to share USB port devices via LAN only is its greatest advantage over FlexiHub, which requires Internet access all the time. What is more, USB Network Gate allows redirecting USB devices to virtual machines and blade servers. Sharing USB devices over RDP protocol is USB Network Gate's another main feature, which makes it easy to access local devices while working in the RDP session.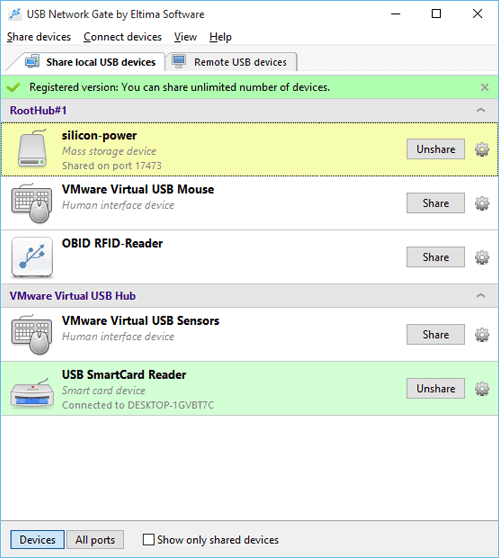 So, considering all the advantages and disadvantages of each method, it's easy to see that the versatile software tool, FlexiHub or USB Network Gate, are more efficient and convenient solution for sharing USB and serial devices over the network.