How to work with COM port in virtual machine – FlexiHub
Common problem:
Virtual environment offers a number of great benefits including server consolidation, increased utilization and faster recovery times after failure. A physical machine can host multiple virtual machines and all of them share computing resources thus increasing the usage of the hardware. However, there is one significant drawback to the virtual environment – there is no access to serial port in virtual machine. What do you do if you need to transfer data for debugging purposes or use an external serial device? Do not worry, there is an excellent solution to the problem, read below to find out more.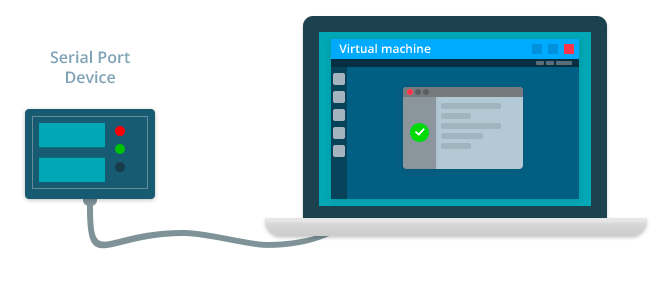 Serial Port Emulation with the help of FlexiHub
FlexiHub is software that creates a client connection and redirects data from a serial port to the virtual OS. You thus get to use a device inserted in the port. FlexiHub is to be installed on both host and guest machines, and it is required to create an account to work with it. There are various connection options available, and you'll certainly find one that fits your requirements best.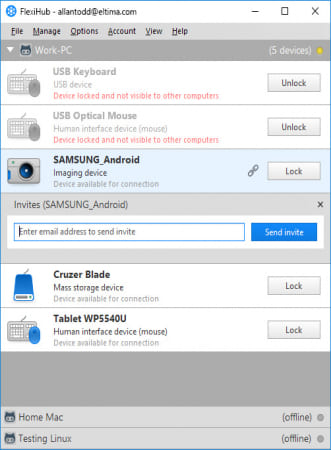 How to use FlexiHub to access serial port in virtual machine:
Firstly, sign up a FlexiHub account.
Start a free trial to connect to the remote devices.
Install FlexiHub on the host machine, launch it and log in. You will see a list of devices interacting with the system.
Now, it's the time to install FlexiHub on the guest operating system, use the same login and password to log into the application.
In the list of available devices select the one you need and click 'Connect'.
That's it – now, devices connected to the host's serial ports are accessible to you in virtual environment. No further adjustments or setting configuration are required. You can manage serial ports from virtual machine in a simple and convenient way. FlexiHub is compatible with all major virtualization software, including Hyper-V, VirtualBox and VMWare.
If by any chance the host computer or the virtual machine runs Linux, Serial to Ethernet Connector will become a great alternative. Serial to Ethernet Connector is a professional solution which allows you to share any number of serial ports, either physical or virtual, over the network. The computer a shared device is plugged into (either a host or any other remote machine) will act as a server. Virtual machines connect to it as clients and gain access to the remote serial devices.
Serial Ports in Hyper-V
With Hyper-V Manager it is impossible to know whether the host is equipped with serial ports or not.
This is how FlexiHub helps you access COM port in virtual machine:
Establish a connection to the virtual machine, launch FlexiHub and click 'Show Options' button – to the left at the bottom.
Navigate to 'Local Resources' tab, click 'More…' next to 'Local devices and resources' box.
Tick 'Ports' checkbox.
Sign into the virtual machine – 'General' tab, the host's resources should be visible to you now.
Serial Ports in VMware
VMware virtual environment allows to work with local devices only if the user will make additional settings. Here's how you can do it:
In the virtual machine navigate to Settings
Open 'Hardware' tab, choose 'Add'
Follow the instructions given and choose a serial port
Your serial port's output destination needs to be specified. A named pipe requires a certain amount of configuration.
Selecting 'Connect at power on' option means a connection to the port will be established immediately when the virtual machine starts.
Once you click 'Finish', you can start using the serial port right away.
As you can see, obviously, FlexiHub is the most simple way to access your serial devices plugged to the system. No additinal hardware needed.