Remote RS485 over network: hardware and software solutions
Even if you aren't an industrial control engineer or a peripheral software developer, there's still a good chance you've had to deal with COM ports (RS485/485/422) in your everyday life. Working with serial equipment or applications supporting COM port communications, you may, sooner or later, feel the need to access your devices remotely.
In this article we'll have a look at two most convenient and popular ways to share RS485 over Ethernet and consider all benefits each method provides.
Share RS485 to Ethernet with a dedicated software
Don't you wish you could make your remote serial device available on your computer without having it physically attached with just a couple of clicks? More efficient than anything else, software RS485 to TCP IP converter is designed for precisely this purpose.
With its convenient and friendly interface, FlexiHub will help you easily share serial ports of all kinds across the network and provide wireless RS485 access. Being a great alternative to cables and hardware-based solutions, the software solves common problem with connections limited by the distance. Full support for a wide range of data transfer protocols is another advantage of the app.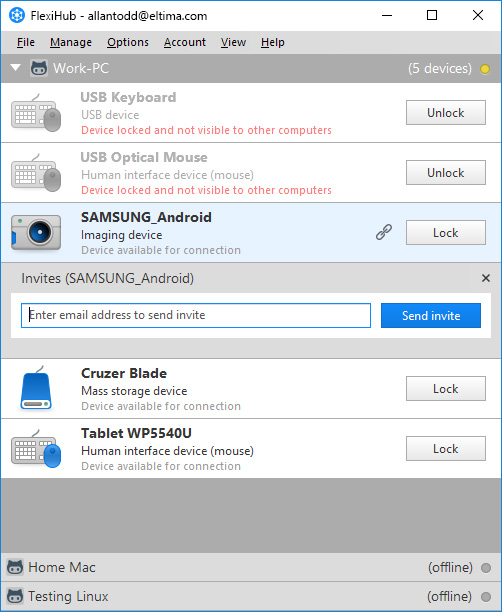 Let's see how it works step-by-step:
Firstly, create a free account here. After that, download and install FlexiHub on all computers that will be involved in communication, including the host machine with a peripheral plugged into it.
Then, you start the app on a remote computer, find the required peripheral in FlexiHub's interface, and click "Connect" without regard to the distance between your machine and the host PC.
Once connected, the device will be recognized by your computer as though it was physically attached to the machine.
That's it, a few simple steps and the peripheral inserted into a remote RS485 port is completely at your disposal.
If you are looking for a more advanced solution, which allows to customize every connection setting before sharing a device, then Serial to Ethernet Connector is definitely worth trying. It is a great software alternative to FlexiHub, as it works on multiple platforms as well: Windows and Linux. With Serial to Ethernet Connector it is possible to share as many COM ports at a time as you wish.
Hardware tool to share RS485 over network
Hardware converter (server) is an efficient tool that is focused on sharing COM port devices across Ethernet.
One of the issues you might be concerned about using your hardware tool is that the number of devices it can share is much more limited, if compared to the software solution. As a rule, hardware converters are able to work with no more than 1, 2, 4, 8, 16, or 32 serial ports. One other not less important thing you should remember is that not all converters of this kind are capable of supporting multiple protocols like RS422/485/232 at a time. Most of them are compatible with one type only. In addition, it won't be possible to display a shared COM port on your PC unless you use some dedicated software.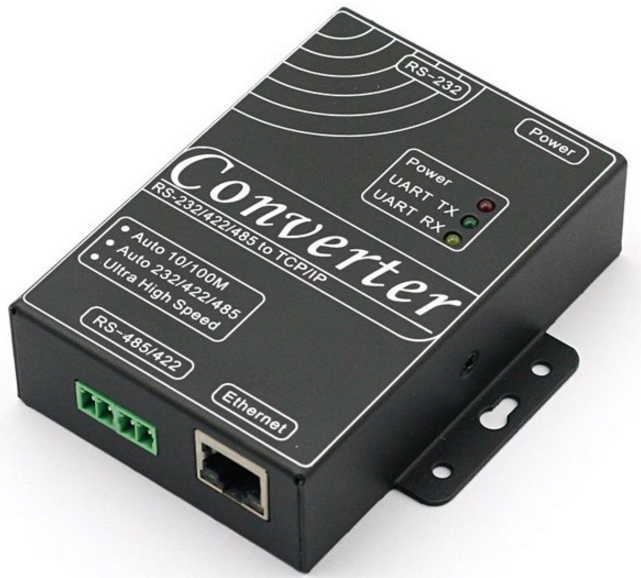 Here's how it works:
To set up your hardware serial converter, you have to first assign your computer its own static IP address. Next, install the dedicated virtual serial port emulator on your machine.
Provide connection between the converter and your PC with the help of a standard cable (Ethernet, crossover, or straight-through one). Once that's done, make sure the hardware is connected to the power supply.
Then go to your browser and enter the IP address of your hardware tool to check whether connection is established. After pressing "Enter" you should be redirected to the Admin page. If not, repeat the hardware setup steps again.
Now start the software, locate the converter with the help of the "Search" option and click 'Create COM port'.
After a virtual COM port is created, it should be available in the Device Manager of your system. If it can't be found there, try to repeat the setup procedure one more time.
Therefore, there are two main ways to share your remote peripherals over the network. Considering the pros and cons of each method, the hardware solution, as you can see, cannot overweigh the convenience of establishing wireless connections with a dedicated software like FlexiHub. The app, designed to meet all your serial port sharing needs, will help you avoid the complications of running long cables and setting up distance-limited hardware.