RS232 extender – How to extend a serial port
Contents
1. Serial port extender: software and hardware solutions.
2. RS232 extender software.
3. How to extend RS232 port over the network.
4. Hardware method to extend a serial port.

Serial extender: software and hardware solutions
Can you imagine people's lives without the many serial devices that satisfy people's evolving needs form day to day? COM port scanners, printers, plotters, lab equipment, industrial controllers, payment terminals, and many more other devices considerably simplify our everyday tasks. But what really makes the use of serial peripherals convenient is a dedicated serial extender which allows connecting to devices remotely. In this article, we'll consider both hardware and software solutions for sharing COM-based equipment over the network so that you can see which method is simpler and more efficient.
RS232 extender software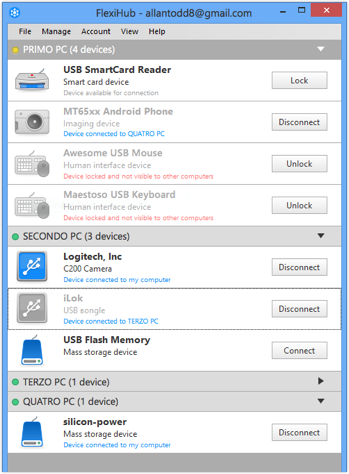 FlexiHub is one of the most popular software COM port extenders out there. The solution is designed to redirect serial devices across the Internet (LAN, or Ethernet) this way making them accessible to multiple remote users at a time. The great thing about this RS232 extender over IP is that its interface is really simple and intuitive. Just a couple of clicks is enough to share a COM peripheral over any distance. In addition, FlexiHub takes the leading position when it comes to the security of connections. The app uses an advanced encryption which reliably protects all network communications established with the help of the software.
How to extend RS232 port over the network
First, create your FlexiHub account. Then, select a suitable subscription plan.
After that, you install the program on the computer (server) with a serial device attached and all client machines that will connect to the device remotely.
Once done, you start the app on the server PC and a remote client and enter your FlexiHub account using the same credentials.
In the software interface on the client machine, you'll see the devices available for connection. You simply choose the required one and click "Connect".
Starting now, you'll have full access to the device's functionality as though the peripheral were physically connected to your PC!
Alternatively, you may try another serial extender over Ethernet called Serial to Ethernet Connector. This software will come in handy for a variety of usage scenarios. For instance, if you need to share one or several COM port devices to one or many clients, connect serial apps via a virtual null-modem cable over the Internet, forward COM peripherals to a guest OS, etc.
Hardware method to extend a serial port.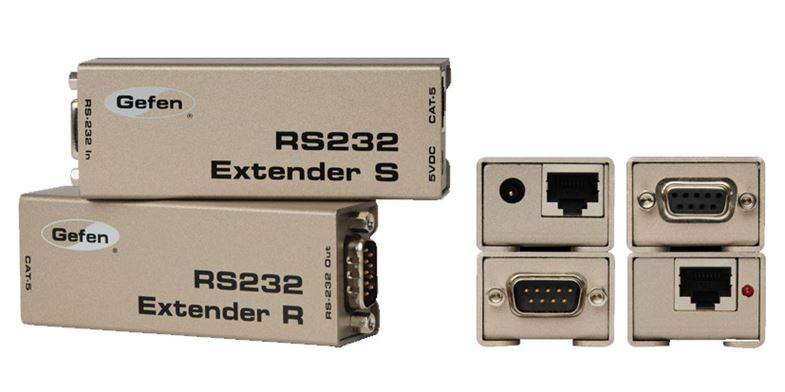 An RS232 line can also be extended to a remote location up to 4000 feet away with the help of a hardware-based solution. Serial extenders of this type work in pairs, one is connected at each end of the RS232 line you wish to extend.
Standard RS485 extenders are suitable for a wide range of applications, including industrial and commercial ones. Plus, the hardware can provide remote access to general office computer peripherals.
However, you should remember that this way of sharing serial devices is not optimal. Unlike the dedicated software, wired or wireless serial port extenders are distance-limited. What's more, when extending RS232 beyond 200ft with a normal cable, you can also face problems with electrical noise induced from outside sources.