How to turn your computer into a USB or serial server
Hate it when you need to plug and unplug your peripherals from one computer to another to use its functionality? You'll like this, then: a USB device server is a hardware solution that lets share a peripheral over the network so that any network machine can access it remotely. More than that, there's a dedicated software that works over any distance with virtually any type of USB and serial devices. This article will cover both hardware and software methods of getting access to remote devices from a network computer independent of device location and USB cable lengths.
Contents
USB server hardware
A USB device server is a specialized hardware that connects to Ethernet via a standard USB interface. The server is equipped with USB to network functionality which means it can be set up to redirect and share devices among nearby network users. One of the core components of the hardware solution is a special software that lets client computers establish a connection to the server and use all USB devices attached to it.
There can be no doubt that a hardware USB server is a great idea for those who want to manage their valuable peripherals remotely. But at the same time, this is not the only possible way to share devices over network. A dedicated software, FlexiHub, offers the unique port virtualization technology that lets forward devices over the Internet and access them right from your computer without any additional tools.
Software solutions as an alternative method
When compared to most device network sharing solutions out there, FlexiHub is definitely towards the top of the group. FlexiHub is compatible with virtually any USB or COM-enabled device like a digital camera, printer, scanner, etc., and will definitely meet the needs of most users when it comes to the speed and security of connections. The advanced encryption used by the software ensures the protection of data transmitted over the network.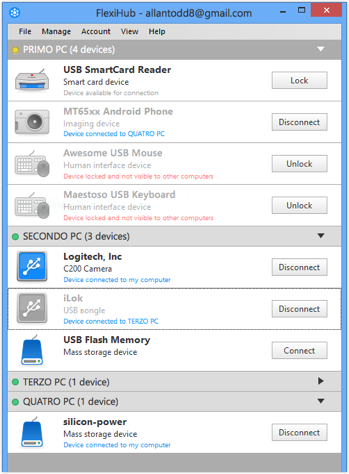 The app does not require any additional hardware or software: a simple installation of the program on your PC will allow turning your machine into a USB and serial port server. That means depending on the operating system you run on your computer, you can get USB server Mac, USB server Linux, or Windows USB and COM port server. Compelling, right?
USB Network Gate is another effective solution that substitutes a traditional USB server. One of its major advantages over FlexiHub is the ability to redirect shared devices over a local area network network without the Internet access. Furthermore, USB Network Gate allows forwarding USB devices to virtual environment and blade servers. On top of that, the solution supports Remote Desktop Protocol and makes it easy to access local devices while working in the RDP session.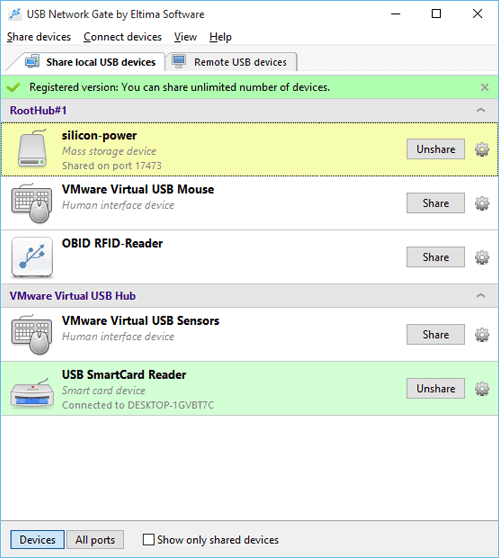 How-to instruction
Here are some simple steps you should follow to use your PC as a USB or RS232 server:
Choose the number of connections you need and install FlexiHub on your machine with USB or serial devices attached. (FlexiHub supports Mac, Windows, and Linux);
Click the 'Sign Up' button and fill out the form to register your FlexiHub account;
Download and install FlexiHub to turn your PC into a USB server;
Start the app and sign into your account (in the software interface you'll see the list of available devices ready to be shared);
Next, install the software on other computers that need to access the shared devices remotely;
Sign into your FlexiHub account on a remote computer, select the required device from the list, and hit 'Connect' next to it.
Now, the peripheral appears in the Device Manager of the remote PC as though it were really attached to this machine.
The main advantages of network serial server software
You can share an unlimited number of USB and COM port devices.
The solution works over any distance.
If there's no direct visibility between computers, traffic is sent via FlexiHub's own Redirection Server, which is another nice plus.
Important points to remember:
Only one computer can connect to a shared device at a time. FlexiHub doesn't make it possible to access a shared peripheral from multiple machines simultaneously.
Shared on your COM port server, the device is not seen by the local computer. If you want to make the peripheral accessible on the host PC, unshare the device.
FlexiHub's version for Windows OS is compatible with both USB and serial port devices, whereas the software versions for other operating systems provide support for USB devices only.