How to share USB keyboard and mouse on Windows and Mac
To own a Mac machine is cool.
To own a Windows PC is cool.
What is not cool is having to switch between several keyboards and mice while working on them. Which apart from being annoying is also difficult - your productivity inevitably drops. You might wonder:
If it's OK to use several keyboards and mice to work on multiple machines?
Answer is:
No. You only need a single USB keyboard for all your machines. Switch between them with the help of software and connect devices via USB splitter
Here are 5 simplest ways to do it - put them to use right away.
Input Director
Synergy
Mouse Without Borders
Share USB keyboard and mouse over Ethernet/Network with classic software
For Windows
Use FlexiHub. The software works on all Windows versions including Windows 10.
Step-by-step instruction:
Step 1
Choose the subscription and download the latest version of the app here on all the machines that will share the keyboard and the mouse. Install the app.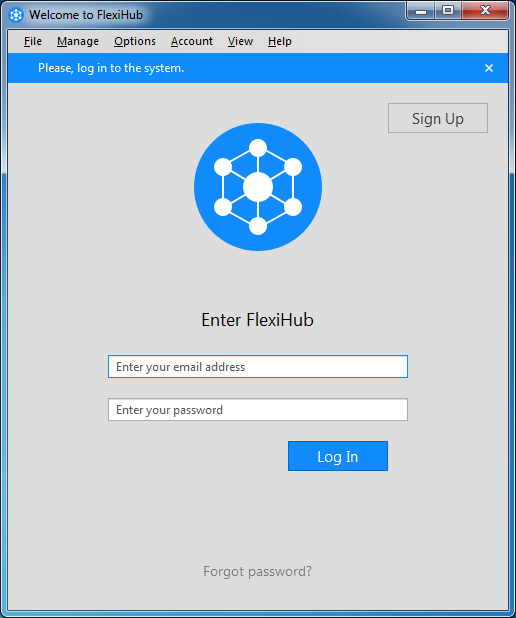 Step 2 Click Sign Up in the right top corner and you'll be redirected to new account registration form. Register an account to protect your shared devices and connections. Once the registration is complete, you'll return to the app's window. Choose the subscription plan to access remote devices.
Note: if you already have a FlexiHub account, skip step 2 and proceed to step 3
Step 3
Log into the app.
The app will display a list of devices available for sharing. Here you may press "Lock" button for devices you don't want to share.
That's it, your keyboard can now be used on all machines with FlexiHub installed.
For Mac
FlexiHub does provide support to Mac OS. Download it by clicking this link and install it on all your machines that need shared access to the keyboard and mouse.
Note: if some of your machines run Linux, download the app's versions for it here
Classical software method pros and cons
Pros
It only requires 3-4 clicks to setup sharing
No need to buy additional hardware
All the apps have free editions to test
You can share not only keyboards and mice, but any USB or Serial devices
Cons
To make use of extra features you need to pay for a subscriptions
They are not as familiar as KVM switches
Using KVM switch for keyboard and mouse splitting
KVM switch is a hardware device that enables you to work on multiple computers (CPUs) not connected over network, using a single monitor, a single keyboard and a single mice.
All it takes is just 2 steps - first plug a keyboard and a mouse you would like to share into USB ports of this box-like device, then connect the switch and the computers. As simple as it gets.
In 95% of cases the switches are equipped with buttons to toggle between USB ports and computers.
You can use KVM switches to share not only keyboards and mice, but other devices as well such as microphones and speakers. The switches work with both Windows and Mac machines.
Hardware method pros and cons
Pros
Classic and simple
KVM switches are usually cheaper than a specialized software license
It requires only 2 steps to share devices
Cons
We need more

lumber

wires!
To be paid for - 100%, in any case you need to buy a switch
Does not work if the computers are far away from each other
Wiring clutter
Specialized software for sharing on Windows
This requires computers to be connected over local network: one of them should be set as the master, and others as slaves. The keyboard and mouse should be connected to the master machine.
Input Director
Install Input Director and setup your master system first: choose how to switch between your multiple computers - either by a combination of hotkeys defined by you or by dragging the mouse cursor across edges just like in a dual monitor setup.
Next define network address and add machines to it. The software enables you to share a common clipboard area in the network, set it up in Global Preferences.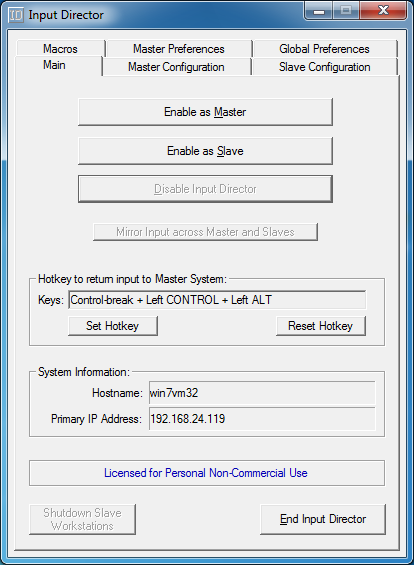 For more details on how to use the software read here.
Synergy
This cross platform software tool is ideal if the computers in your network run different operating systems.
You can customize the mechanism of switching between computers too - either press a hotkey combination or drag a cursor across the borders. Switch time is also customizable, and you can share a common clipboard area.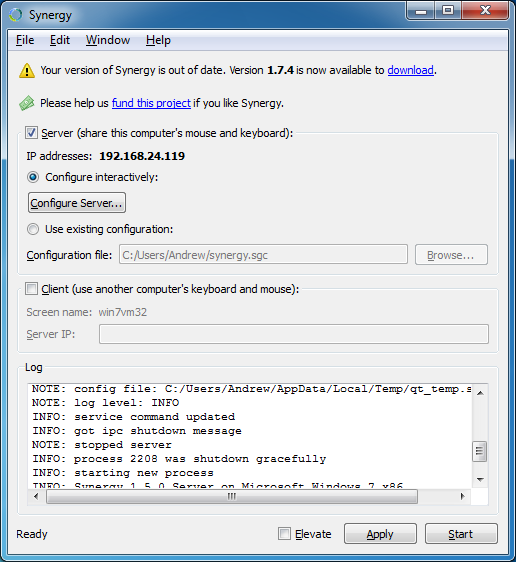 Mouse Without Borders
This app should be installed on all machines in the network. When you launch the app you'll be asked to enter the Security Code and the name of the computer you would like to connect to. The software allows you to connect not more than 4 machines and lock all network computers in one go.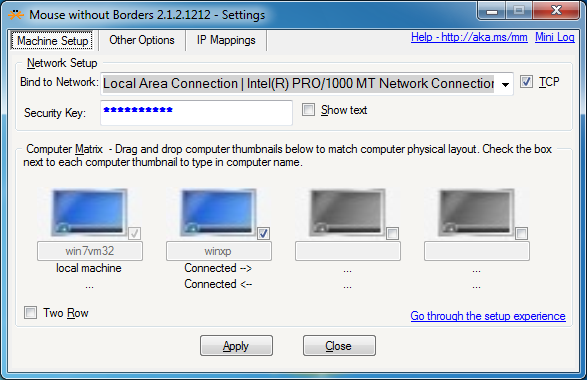 Apart from shared clipboard area, the app offers you a possibility to drag and drop files from one machine to another. The highlight of this app is its sleek intuitive interface.