Use your software USB extender to the full
Just like many other apps designed for Linux (Ubuntu) operating systems, FlexiHub comes with two interfaces: the standard GUI and the command-line utility. But in either case, your first step will be to install FlexiHub on the machine that is going to be your USB redirector server (the one with the dongle keys, web cameras, and all the other USB devices you're going to share via RDP protocols). Next, do the same thing on every PC in your network that needs access to at least one shared USB device. There is no need to install any device drivers on client PCs, though.
FlexiHub has a very intuitive and straightforward graphical user interface you won't have any trouble mastering. The upper pane shows all the devices connected to your server's USB ports that are available for sharing. To make a peripheral accessible from remote machines, click the Share button next to its name. Also, you can lock the USB devices you don't want to share so other machines on your network won't even show said device in their lists: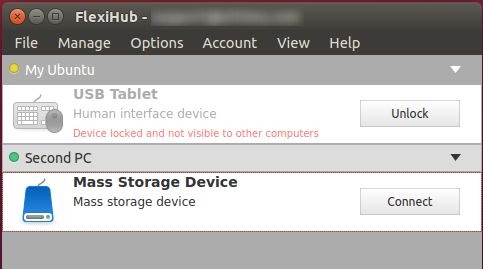 To access a remote peripheral, find its name in the bottom tab and click the Connect button. When you're done using it, click Disconnect. Yes, it's really that easy.
Optionally, you can enable traffic compression for each specific connection. Right-click the device's name and choose the compression type to your liking: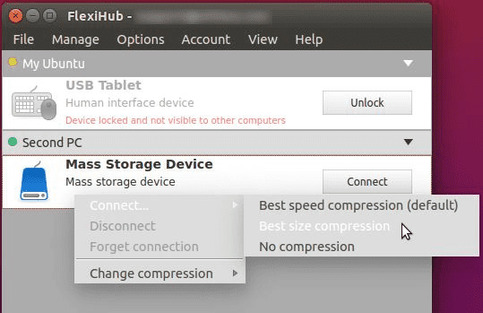 But keep in mind that for low-speed devices like USB dongle keys, it won't make any noticeable difference. Though, this feature can come really handy for latency-sensitive USB devices, especially if you don't have 100 Mbps Cat6 LAN.
As for the command-line interface, it's as simple as it can get, provided that you know all the proper commands (which, by the way, are pretty self-explanatory and very easy to remember).
Use the following command to log into your FlexiHub account:
fhcli login EMAIL
Don't forget to replace 'EMAIL' with the actual address you've used during your account registration. And if you want to be the only one using your account, add the 'reset all' parameter at the end. After that, whoever is using your account at the moment on other computers will be instantly logged out.
Like this:
fhcli login EMAIL [--reset-all]
Now, to connect to a remote USB via Ethernet, use this command:
fhcli connect-device ID_DEVICE
The ID_DEVICE is a four-digit number you can obtain after using the fhcli show-remote command to see the list of all the devices available for remote connection.
The connect-device command has two parameters you can use.
The first one is to choose the desired data compression rate:
[--compression=bestspeed] - maximum compression, best for latency-sensitive peripherals,
[--compression=bestsize] - best packet size for zero-loss data transfer,
[--compression=no] - no compression whatsoever.
If you don't use this parameter at all, compression will be set according to the default value. If you're not sure which one it is for your machine, use the fhcli default-connect-parameters command to find out.
And the second one allowed you to enable or disable the auto-reconnect feature:
[--auto-reconnect]
[--no-auto-reconnect]
Each of the connection parameters can be changed on the go with the fhcli change-existing-connection-params ID_DEVICE command.
Once you're done using the remote device, execute the fhcli disconnect-device ID_DEVICE command to disconnect it.
But of course, the functionality of the FlexiHub's command line goes way beyond connecting and disconnecting some remote devices. There are also commands for sending, viewing, and accepting (or declining) invites, locking/unlocking a specific peripheral, managing device descriptions and local proxy settings, remaining your computer, force logging out another user from your account, and many more. Don't hesitate to check the app's official webpage for the complete list of commands.