FlexiHub software alternative to Digi AnywhereUSB
A while ago accessing a device inserted in a USB port of another computer was an impossible thing to do. However today's technologies offer us various ways to reach the contents or functionality of a remote USB device, the most popular being Anywhere USB configuration utility.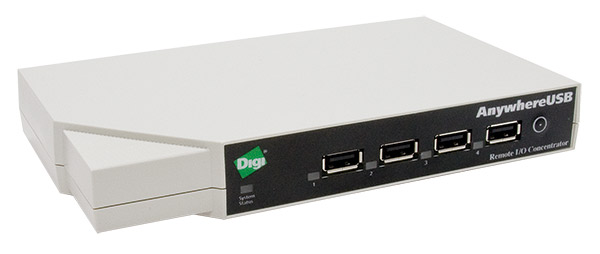 Digi AnywhereUSB is a network-attached USB hub that allows you to connect to serial and USB devices over a wired or wireless Local Area Network. USB Anywhere however does not support so-called isochronous devices, i.e. those that transfer time sensitive information such as audio (sound cards) and video (webcams). The biggest disappointment awaits Mac owners – USB Anywhere is available only for Windows OS.
AnywhereUSB software alternative
What should Mac users do then? And those who need to work with isochronous USB devices? The best way would be getting an alternative to Anywhere USB, software called FlexiHub.
This compact solution supports a wide range of USB and serial devices, including those not present in USB Anywhere device list. The functionality FlexiHub offers is very similar to that of Anywhere USB – access the contents and functionality of remote devices over network. The software works in a real-time mode, i.e. it detects and allows you to connect to available devices the moment they are plugged in and shared.
FlexiHub provides you with a control panel where all serial and USB ports in the network are displayed as nodes – you can see the type of each device. There is a feature that allows inviting others to access a device you have shared.
The tool supports access to USB ports on virtual machines. It is compatible with all popular virtualization applications – VMWare, ESX, Citrix XenDesktop, Microsoft Hyper-V, Windows Virtual PC, QEMU.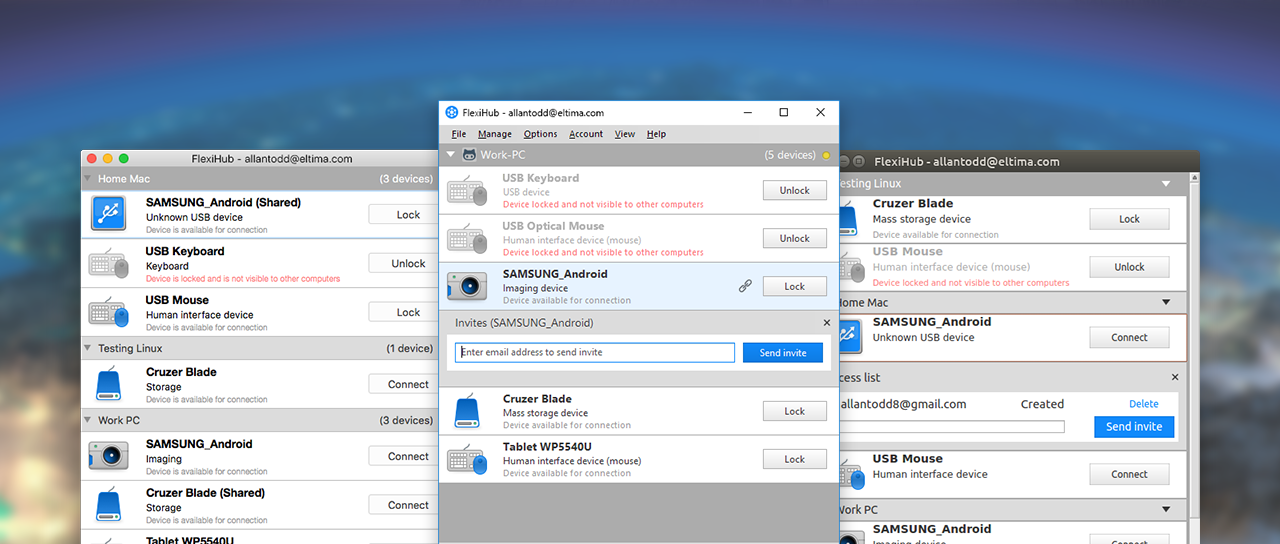 This is how FlexiHub works:
Step 1
To access remote device, register a FlexiHub account and start a free trial.
Step 2
Download and install the software on the machine that shares the device and the one that connects to it remotely.
Step 3
Launch the software and log in with your credentials on both computers. On the remote computer click 'Connect' to establish a connection to the selected device.
FlexiHub allows you to access the contents and functionality of a USB device remotely, from wherever you are, as long as you are connected to the network.
Another great software alternative to AnywhereUSB is USB Network Gate. The software is capable of sharing USB devices over LAN only, which is its greatest advantage over FlexiHub, which requires a stable Internet connection to access remote devices. In addition, USB Network Gate allows redirecting USB devices to virtual machines and blade servers. Sharing USB devices over RDP protocol is USB Network Gate's another main feature, which makes it easy to access local devices while working in the RDP session.