Access remote RS232 over IP network
When would you want to share RS232 over a network? When physical access to RS232 is not possible due to distance or other obstructions, e.g. you might need to send documents for printing to the MFD connected to your colleague's computer in another office building. Also, sharing RS232 port to the network is required when you work in managed systems, e.g. virtual machine or blade server system. Here you can redirect input and output of RS232 over IP or any other network, once you login into the blade server, you will be able to work with the port and devices connected to it.

How to access remote RS232? There are different ways to do it – there is hardware, as well as a software solution that will help you connect to RS232 port over IP/ TCP/ Internet.
Below we will have a closer look at both solutions.
Software for sharing RS232 port over network
FlexiHub is a compact application that enables accessing remote RS232 over Ethernet or any other network. The physical distance between a computer that needs access to a serial device and a computer to which the device is actually attached does not matter at all. If you have FlexiHub installed on both machines and network connection – you can work with remote RS232 via Ethernet as if the device were connected directly to your local computer.
Working with FlexiHub is really easy, no advanced setup or lengthy configuration process are required. You need to choose a subscription – the plans offered are convenient and flexible, and you'll certainly find the one that fits your requirements. It is also required to register to start using the app.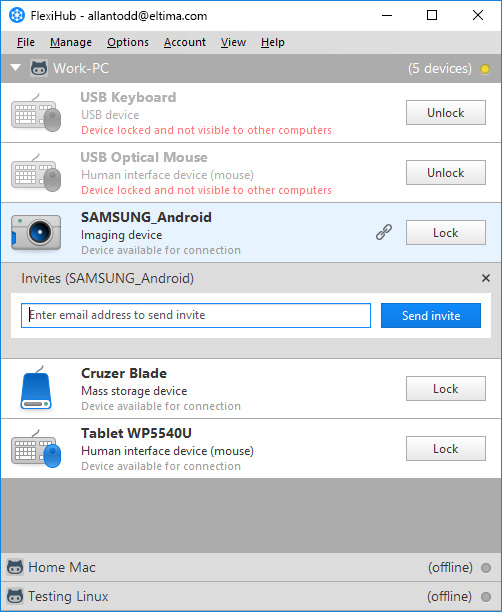 Here is your step-by-step guide to the software:
Get a subscription and register to create a FlexiHub account.
Install the application on all network computers that need remote access to an RS232 port.
Launch the application on a computer that has the RS232 device attached to it, log into your account. In the window displayed you will see a list of available devices, choose the one you need and click 'Share' next to it.
Open the application on a computer that needs to access the device and log into the same account. In the list of devices shared in the network locate the device and click 'Connect'.
That's it - now you can work with the device, its contents and functionality as if it were attached to the local RS232 port.
Hardware for sharing RS232 port over network
There is another way to get remote access to RS232 over Ethernet or another network – with the help of additional hardware. We are talking about Serial over IP extenders are also known as Serial-IP converters, Terminal or Device Servers. These devices convert asynchronous data from a serial port (RS232, RS422 or RS485) to TCP/IP or UDP packets to be sent over the network. They might have one or multiple ports and feature a 10/100 Ethernet network interface. This works well for short distances, e.g. if computers are located in the same office cubicle. Adding hardware won't solve the problem if computers are far from each other or there is something that blocks the way.