How to access security cameras remotely
Contents
1. General description
When you are leaving your house, have you ever hesitated, concerned that you will not be there to keep your castle safe? Kept looking back over your shoulder as you walk away after locking up? Driven a few blocks away and then found a reason to return just to get a last look before you depart?
If home security is a concern of yours, then you are in a quandary. Try as you might, you cannot be at home and someplace else at the same time. When you leave your house you just cannot know what's going on back there. Burglaries are down recently due to the installation of alarm systems and better locks, but you still are uneasy because nothing is perfect.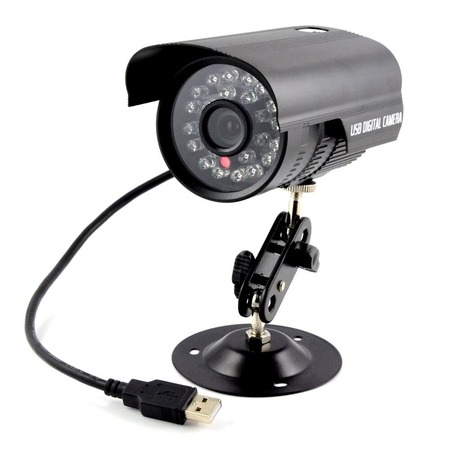 To reduce your anxiety concerning your home's safety, you might consider remote access security cameras. For a variety of reasons, you may want to monitor and record areas in and around your house.
Video surveillance allows you to monitor or record activity in and around an area for many different reasons. You may want to keep your sleeping baby safe from falling out of bed.
Maybe you want to be certain that your child got off the school bus and into the house safely. Security camera can also alert you to strangers on your property and in some instances help law enforcement by capturing images of someone breaking into your house.
2. Issue: Accessing your security camera remotely
If you're trying to watch your home or the people in it, you need have access to the video feed wherever you are. You want to be able to have the security camera connected so it can be viewed directly through your computer or by CCTV remote access.
This is where FlexiHub comes in by making it possible to view surveillance cameras over the Internet. Here's how you can use it to connect your security camera to the Internet.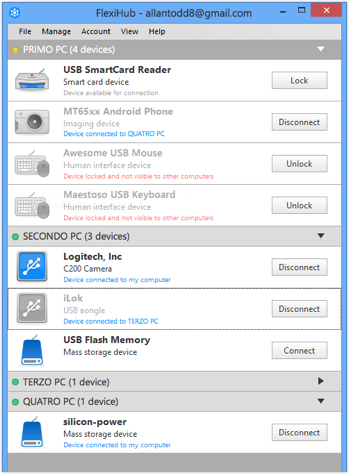 Follow these simple steps to access your security camera anywhere you have and Internet connection.
Step 1: Register for a FlexiHub account. After that, choose the subscription plan that is best for you and start a free trial.
Step 2: Start by physically connecting your security camera to your computer(server). Then install the FlexiHub software on both the server and the remote computer (client) that will be accessing the camera remotely.
Step 3: To share the security camera over the Internet, simply start the software on both machines using the same login credentials.
Step 4: Click 'Connect' on the remote computer to access a security camera.
Once connected, you can use any specialized software to access and remote control the security camera.
FH pros: The software is cross-platform and works as a Windows service or UNIX daemon. This allows you to log into FlexiHub and close the app without losing your connection.
If you do not have access to the Internet and would like to utilize the software exclusively in the local area network, then USB Network Gate is definitely should be taken into account. One of its main features in comparison with FlexiHub is an ability to work via LAN, when FlexiHub needs constant Internet connection to access remote camera. Another great feature of USB Network Gate is an ability to tunnel USB traffic over the RDP protocol.
3. USB webcam as an IP surveillance camera.
Another method of remote monitoring is by using USB webcam as an IP surveillance camera. To accomplish this you need to follow these steps:
Step 1: Configure Dynamic DNS on your computer using your web browser using any of the free options readily available. This enables you to communicate with other computers connected your router.
Step 2: Install webcam software that enables you to monitor your webcam from a remote location. Start the software and have it stream or monitor your webcam.
Step 3: To view the webcam remotely, use any Internet-connected device and connect to your computer through your Dynamic DNS account.