How to share USB scanner on network
Let's talk about sharing a USB scanner over network, LAN or wireless. I will borrow an example from my recent guide on sharing a USB printer: there are two Windows machines — one is in my home office upstairs, the other one is in a room downstairs, they need shared access to a USB scanner.

The PC upstairs has Lexmark 3500-4500 Series device connected to it via USB cable. I have a Wi-Fi router and wireless network, and I am to figure out various ways of sharing the scanner.
Method 1: Sharing scanner over network
The easiest way will be to use FlexiHub, an app that lets you access and manage remote USB devices over IP.
Step-by-step guide
Choose FlexiHub subscription here and install the software on each of your PCs that need access to the shared scanner. Choose the subscription plan to get the full functionality.
Click Sign Up button in the app window and register.
Launch FlexiHub and enter your login credentials — e-mail and password.
Do the same for another PC that needs shared access.
In the FlexiHub window on another computer find the scanner and select Connect.
The scanner will automatically connect to the other computer — now you can use it the way you want.
The free subscription - FlexiShare allows only to send invites to your local devices, you won't have an opportunity to access remote ones. To share and access your scanner you need to get FlexiAccess subscription.
Pros
The app is easy-to-use with no redundant settings or buttons;
Supports Windows, Mac and Linux;
Shares any USB and serial devices — printers, keyboards, fax machines, bluetooth adapters, etc.
Cons
Connection to remote devices is not possible in free plan.
Method 2: using classical USB sharing software
USB Network Gate is a software that helps you access USB devices as if they were directly connected to your machine. The way it works is pretty similar to FlexiHub.
Download USB Network Gate from the official web site, follow this link. Install the software on all the computers that need shared access.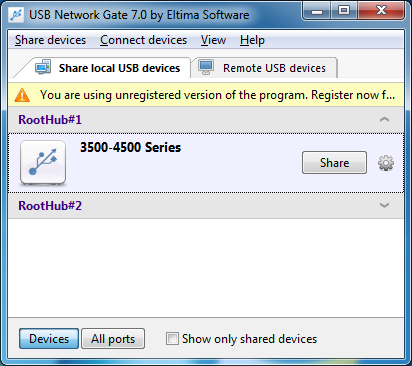 Once the app is installed on all computers, the connected device will be displayed in the app's window. Press Share next to the name of a scanner, and it will appear in USB Network Gate on other computer. It's ready to be used. If you need, you can add encryption or compression to the connection. Change ports to which the device is connected via USB Network Gate settings.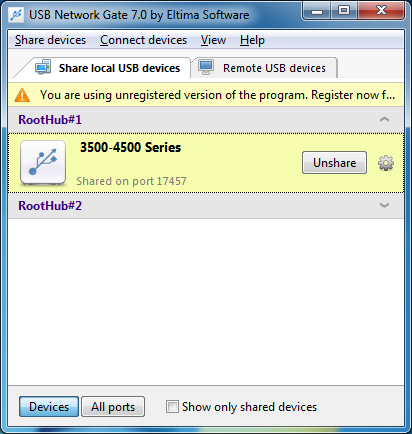 Pros
14-day trial version you can test and use for various experiments;
Works across platforms — Windows, Mac, Linux and Android;
Supports all USB devices, not only scanners;
Support services are available any time.
Cons
If you want to use it for more than 14 days, you will have to purchase a license;
High price.
Method 3: Windows functionality
Windows OS offers functionality to share a scanner with other computers, or set it up as a wireless scanner on your network.
This is how you do it:
Plug in your scanner's USB cable to a computer connected to the network or to the USB port of a router or modem. Follow the instructions to install the scanner, if it has not been done before. You can refer to the installation instructions specific to your scanner model or Microsoft guide.
Open Control Panel from Start menu, go to Network and Sharing Center and click View network computers and devices.
Right-click your scanner icon and select Install to make it accessible to other machines in the network.
Note: This does not work on Windows XP, there is no such option. To share printer on Windows XP try either of the above methods.
Cons
Works only on Windows 7 and Vista;
Anyone in the network can use the shared scanner;
The connection cannot be protected — anyone can access scanned images, including important documents.