FlexiHub: the COM port redirector software
FlexiHub is a desktop app that holds a special place among software COM port redirectors available today. The program can easily connect your PC to a remote serial device no matter the distance between them. FlexiHub's user base is largely made up of folks who need to redirect COM port over Ethernet, WIFI, or the Internet fast and securely. The nice thing about the app is that it protects all communications with advanced traffic encryption, so you don't have to worry that your sensitive data will be lost or intercepted.
In addition to serial peripherals, FlexiHub can easily share USB devices as well. With the solution, you'll have no problem redirecting your devices to a virtual environment.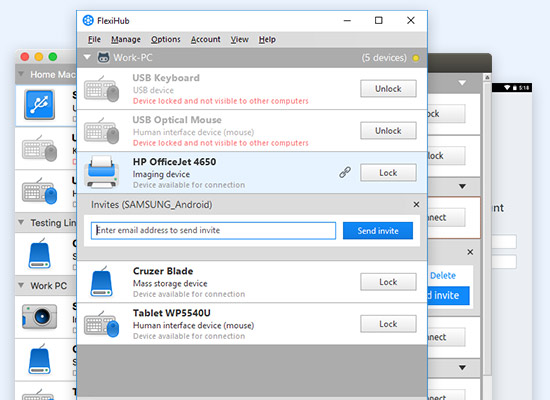 FlexiHub is fully compatible with VMWare, ESX, Citrix XenDesktop, Microsoft Hyper-V, Windows Virtual PC, and QEMU virtualization software.
How to redirect serial port:
2
After that, start a free demo period to be able to connect to remote serial devices. Install the software on each of your computers that need access to the serial device.
3
Next, start FlexiHub and enter your login credentials on the PC with the device physically attached.Do the same for a remote machine that needs shared access.
4
After that, in the FlexiHub window on the remote computer you find the device, click "Connect", and bam — the remote device is recognized like plugged in directly to your computer!
One more thing that makes FlexiHub a really great COM port redirector is the speed of connections. The app's traffic compression feature allows transmitting serial data significantly faster. Users find this especially helpful when interacting with certain types of devices that originally communicate data in an uncompressed format.

Device Isolation for Multi-User Systems
FlexiHub lets you to isolate COM port devices per session and your COM port will be visible only to you and available only in your user sessions.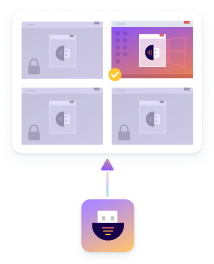 On top of that, if two users are logged into the same account, they can start communicating with comments and reactions via a convenient FlexiChat - one of the latest improvements to the program. FlexiChat is available in the Windows version of the app.