Access USB Hub
over Ethernet.
You know that feeling of dissatisfaction you get when you have a lot of devices but a very limited number of USB ports to plug and use them. It is a typical problem of many owners of portable devices like phones, wireless mouse, smart cards, webcams, and even hard drives. Nowadays computer manufacturers keep pushing out computers with less and fewer USB ports for our numerous devices. An average person in this technology-dominated era needs more USB ports to fully manage and use his USB devices without restrictions.
The main question here is "How can I get extra USB ports so I can use all my devices the way I want to?" Or some people will ask "How can I fit all my devices into one USB port and use them like they were plugged into different ports on the same computer?". The solution is FlexiHub (software) and USB Hub (hardware)!

Extend the number of USB ports and share USB Hub over Ethernet
Now am going to show you how you can not only get more USB ports for all your devices but also how you can connect to your devices from any remote location around the globe or even share your devices with others.
The first thing you need is a USB Hub. How it works is that you plug the hub into your computer's port and then connect as many devices as possible to the hub. You can even connect another hub to an already plugged USB hub thereby making the chain of USB devices sharing that same port even longer. The bad news here is that you end up creating a web of USB cables that sometimes take most of your workspace.
This is where FlexiHub comes in with the magic that will allow you share the USB hub over IP. This software solution brings the devices plugged into the USB hub to your location via Network (LAN/WAN/Internet).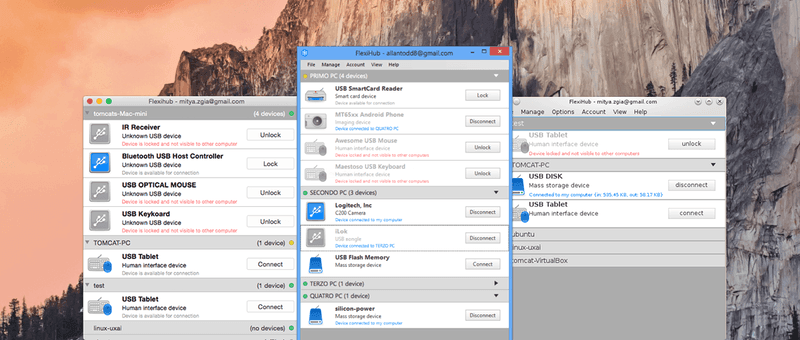 FlexiHub allows you access all the devices attached to the hub from any remote location as if they are locally connected to your computer. You can as well share this USB Hub over Ethernet with other people who have FlexiHub installed on their computers.
Every user of FlexiHub can connect to a remote USB Hub and their computers will treat the hub as if it was directly plugged into their computers. Hold on! What about security? Well, you can restrict access to some devices attached to the hub by locking them with a password.
With this software solution, you can access a USB Hub plugged into a computer in another part of the world from the comfort of your room or workspace. It is more like using your devices anywhere you go without them moving an inch from the physical location where they are situated.
However, FlexiHub is capable to work over Internet only. So, if you would like to share a USB hub over the local network or would like the data to be sent over the remote desktop protocol, I would recommend to take a closer look at USB Network Gate that possesses similar functionality, and would become a great substitution.
How to create more USB ports and share USB Hub over Network
A step-by-step description of how to share USB hub over IP Network with FlexiHub.
First step: Choose the quantity of connections here and install FlexiHub on all the computers that need access to the shared USB Hub.
Second step: Launch FlexiHub app.
NB: If you already created an account then move to step 3. If not, simply click on Sign Up button and fill out the form to create an account. Mind you that creating an account is a prerequisite for safe and secure connection to your devices.
Third step: The list of devices available and ready to be shared will appear in the FlexiHub Window.
Now move over to the remote computer and sign into your FlexiHub account, select the device you need from the list and click on the "Connect" button next to it.
At this point, you are ready to start using all the devices plugged into the hub. The whole devices in the hub will be recognized as local devices. So start sharing your hubs now with FlexiHub.