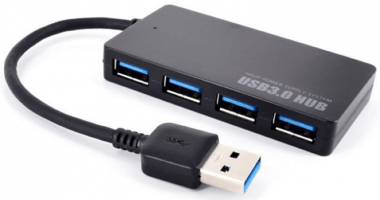 Contents
What is a USB port splitter?
A USB splitter is a hardware device that helps to divide one USB port into two (or more) lines and is usually used to plug one peripheral into several computers. Similarly to a telephone wire splitter, this device runs separate connection lines to USB ports on each machine.
Although many people prefer the wired method, there's also a software way to split USB ports among multiple computers. In this article, we'll tell you how to make one USB device available for access to multiple PCs without any USB splitter cables or wires.
But first, let's think about why one would need a USB splitter.
The typical problem that computer users face today is the inability to connect their valuable USB peripherals to more than one PC at a time. Anytime you want to make use of your printer, scanner, flash drive, etc. from another computer, you need to switch the device between the machines. Needless to say, this method is neither convenient nor efficient, especially if you're dealing with a non-portable peripheral.
What may come to the rescue in this case? Yes, that's right: a USB hub splitter. This device will definitely be a big help if your goal is to split a device located in proximity to both computers. The hardware solution consists of a compact box connecting to computers via USB cables, which, by the way, can take most of your workspace.
But what should you do when you don't have the required peripheral around? What if the device that you need to split is located in another office or a remote building? Cable connection? Don't think it's a good idea.
Probably the most optimal solution will be to share the device with a multi USB splitter software and access it from another PC across the network.
Software alternative to a USB splitter box
What is going to help you is FlexiHub. The app is powered by an absolutely unique technology that allows virtualizing USB ports for their further splitting over the Internet. You simply connect a USB peripheral to your local PC and the device appears on as many remote computers as you need. All you need to do is install the program on all machines that need to communicate with the device.