Convert your USB printer to wireless one
Tired of all the inconveniences of wired access to your printer? Want to connect to your devices without tons of expensive cables? In this article, we'll tell you how to redirect your printer over the network with a wireless print server or, even better, share your peripherals over any distance without using any additional hardware.
Contents
What is a wireless print server?
The main mission of any print server device is to share its USB interface over the network so that all network users can access equipment inserted into the port. The device reveals you from the need to plug and unplug your printer every time you want to access its features from a different machine. A print server will help you connect to a printer remotely. With that, if computers are connected over Wi-Fi, it will be a good idea to use a USB wireless print server.
A wireless print server USB hardware is a compact device that allows sharing the same USB printer among multiple users of a wireless network. The device lets any network user send print jobs to a remote printer any time. Thanks to a wireless print server, you can choose the most convenient location for your printer and place it anywhere at your home or office, as you are no longer limited by the length of a USB cable.
How does it work?
A wireless print server works over Wi-Fi using a special wireless module, so there is no need to run additional cables to connect the device to the network. All you need to do is link your printer to the hardware with a standard USB cable, connect the server to power supply network and that's it. The solution is completely ready for use. On the front of the device, you'll see a light indicator. Depending on the status of the device, the light can be green (when the server is active in the wireless network) or red (the standby mode).
How to turn your PC into a wireless print server without additional hardware
FlexiHub is a dedicated software that will help you share your printer over the Internet without using any additional hardware tools. With the solution, you can manage a printer remotely, along with other peripherals attached to a remote machine (whew!).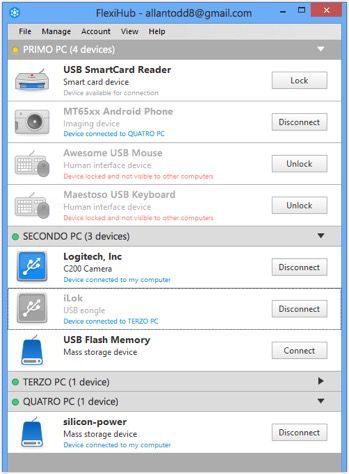 To enjoy full access to the functionality of a remote printer, you just need to have FlexiHub installed on all of the computers taking part in the communication. Once installed, you'll be able to start the app and connect to any of your remote peripherals with just a tap, manage them, and navigate through their contents from afar.
FlexiHub is designed to support multiple operating systems. The software not only works great with Windows 2000 / XP / 2003 / Vista, Mac OS and Linux but also with Android OS. Therefore, if you use different operating systems at home or in the office, FlexiHub will be the perfect solution for you.
Another efficient option for sharing a printer over the network is USB Network Gate. This software solution similarly to FlexiHub lets users access remote devices from any network machine. You don't need to rely on a hardware server as a helper, with the software your computer will work as a device server and client itself.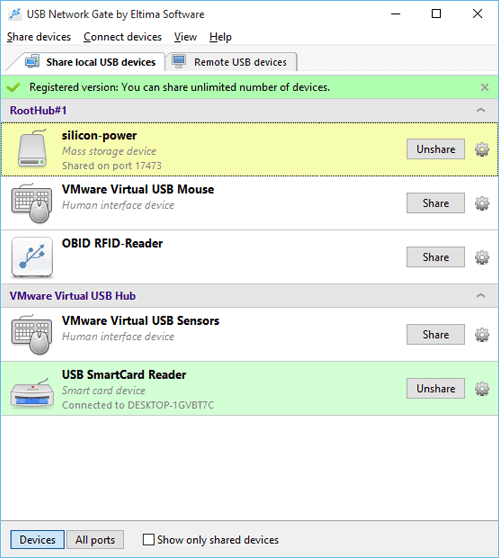 USB Network Gate works perfectly well over both a local network (Ethernet, Wi-Fi) and the Internet. Above that, the solution supports Remote Desktop Protocol and allows redirecting USB devices while working in a remote desktop session.
The benefits of the software method
Despite all the advantages of the print server wireless hardware, the software solutions seem to be a more efficient way to share your printer over the network. With the dedicated software you get:
The ability to work over any distance. You'll be able to access a remote printer regardless of its physical location.


Support for virtually any device. Plus, with FlexiHub's version for Windows OS, you can share COM peripherals additionally to USB devices.


The ability to forward local peripherals to a virtual environment. The software is compatible with Hyper-V, VMware, VirtualBox, and many other virtualization apps.