USB Network Gate (aka USB to Ethernet)
USB Network Gate by Electronic Team, Inc. should be on your radar if you need a software tool that works better than any hardware USB-Ethernet adapter. It is an effective USB extension app that turns a machine into a USB server that reliably redirects traffic from USB-based devices across a network. UNG provides a convenient way to share printers, dongle keys, card readers, web cameras, and any other peripheral plugged into a USB port of your computer over any network, including WiFi, Ethernet, LAN, or the Internet.
USB Network Gate has gained popularity with users around the globe due to its reliability, capabilities, and user-friendly interface. The software offers two exceptional features that will protect your data and reduce your network bandwidth usage. The tool also has the capacity to compress all data transmission to improve transfer speed and minimize the demands on your network. These elements of the application help make it the best USB over Ethernet software solution.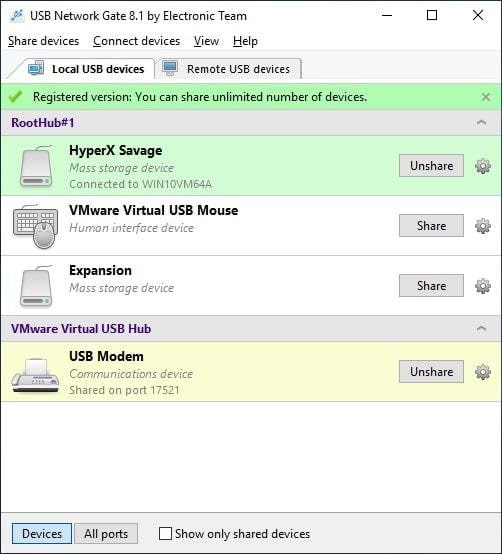 The best features of USB Network Gate
The app allows you to seamlessly share and access any USB device via Ethernet not just on Windows but also on Mac, Linux, and Android OSes. Being cross-platform compatible, this program makes it possible to share a USB device between different OSes, for example, connect from Windows to Mac, from Mac to Linux, etc.
USB Network Gate helps resolve the issues of accessing local a USB device from VMware, VMware ESX, Citrix XenDesktop, and Microsoft Hyper-V virtualization environments.
The solution lets you share USB over the Remote Desktop Protocol, making it simple to work with a local USB device in a remote session.
USB Network Gate can compress traffic. This allows improving the data transfer speed and optimizes bandwidth usage, so the high-speed 100 Mbps connection is not required.
The app supports advanced 256-bit SSL encryption that guarantees the security of your communications. It's especially important when you share USB cameras or license dongle keys all over your network.